DIV. OUTFITS;

DJ Charley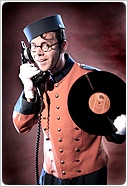 Als DJ Elevator

Great Gatsby DJ

Retrolicious DJ duo

Sultan Charles





Robin The Boy Wonder
DJ Charley
- Solo DJ draait vintage-, retro-, en party-music; ...van Charleston, Big Band Swing, naar R&R en Soul tot Disco en Retrolicious new beats.


-Specialist in diverse themafeesten als; Roaring Twenties / Great Gatsby / Mafia /Gangster, (electro)Swing, Burlesque / Moulin Rouge / Hollywood / Casino Royale / Show Boat / Cocktail Party / Night Club / Cabaret / Circus, Fifties / Rock & Roll, Country / Western / Cowboy, Swinging Sixties / Mad Men / Alice in Wonderland, Tropical / Hawaii / Tiki / Beach / Jamaica, Disco / 70's / 80's / 90's / , 40up, Halloween, Kerst, Dinner Party, award show, quiz, special projects etcetera.

-Beschikt over DJ booth en eigen versterking tot 150 bezoekers. Tevens VJ beelden (veelal dansmontage met bovenstaande thema's).
-DeeJay Charley is eigenaar van boekingsbureau www.MadameRisquée.com Complete show met live entertainment ook mogelijk.
Div.varianten en mogelijkheden:
Charley's Rhythm Revue
- EXTRA te boeken: Burlesque danseressen, zanger(es), Showgirls, GoGo girls, Candygirls, animatie acts, 40's dansgroep etc. zie ook www.MadameRisquee.com

DJ Elevator
- Vooral 'uplifting background music' nodig?
DJ Elevator in picollopakje draait plaatjes om de sfeer te verhogen.
Alter ego's / andere outfit als Marquis DuCharles (bijv. Klassiek/wereld/exotica muziek ) of Robin the Boy Wonder (60's party etc.)

Retrolicious DJ Duo SITE
- This is a night to dress up for party time. The Retrolicious dj's are inspired by the coolest, swingiest, funkiest and most fun of vintage and retro sounds: ... a fine blend of old, new and timeless party (or lounge) music.

DJ/VJ duo The Scopi-Tonics SITE
- Behalve de beste (50's-60's & wat 70's) tunes op Vinyl, ook filmclips met geluid en sfeerbeelden, indien er een mooie plek is voor groot scherm, een waardevolle toevoeging en instant sfeermaker!

DJ Charley werkt(e) voor; vele evenementenbureaus, bedrijfsevenementen, theaters & clubs; Paradiso, Melkweg, Tuschinski, North Sea Jazz Club, Huis ter Duin, L'Europe, SS Rotterdam, Boekenbal, Epica Awards Berlin, Star Alliance, Holland Casino, Wetenschapsquiz, musea, Burlesque events. Etcetera... Bookings are welcome.
Boekingen of vragen: bel 0620750027 of mail MadameRisquee@Gmail.com
EXTRA TE BOEKEN:

Singer & dancers

Charleston dancers


Burlesque acts

Swing Trio

DJ booth incl sound


animatie act(s)