Retro DeeJay with DJ booth(s)
For your location / party / event

DJ Charley plays Retro, Vintage & Fun music;

Golden Oldies - Forties - Fifties - Sixties - Rock & Roll - Soul - Lounge - (Electro) Swing - Burlesque Beats - Jazzy tunes - Exotica - Cabaret - Beach music - 70's-80's-90's Discotheque Music - 1920's style - Party - FunPop, Happy music, new and all-round(ish).

Bookings or questions:
mail JukeBoxCharley@Gmail.com
call +31(0)620750027




1: DeeJay Charley with own DJ booth

Charley has a DJ booth with choice out of several fronts; Great Gatsby, Burlesque-, 80s / Disco theme or custom design. With or without gramophone horns. Playing equipment (record player(s), mixer, laptop) comes with the booth. Accessories like movie studio lamp, vintage microphone, 'Now Playing' light, VJ images and more are available. Amplification / loudspeakers are an extra option.




2: Gramophone DJ Charley

DJ Charley brings a top-of-the-bill Deccalion (10 Watts amplified) record player from 1959, records and movie studio light. Vintage entertainment for your lounge space, start of party, at diner, cocktail party, festival, cultural event etcetera. Jazzy music or fun 50's - 60's tunes, twist, Rock & Roll, exotica, or a specific theme: vinyl sounds for a vintage atmosphere!

The equipment is ready to go (no build up time) instant atmosphere on any location! Beware: for real dancing parties DJ Charley with DJ booth is a better option since there is a 2 seconds time for changing records with this set up.
3: DeeJay Charley with his records.

DJ Charley plays vintage-, retro-, and party-music; from Easy Tune 'till Big Band Swing. From R&R and Soul 'till Disco and Retrolicious new beats. All on vinyl (but a -hidden- laptop could be handy for requests etc.). Charley can use your equipment but he can also bring record player and amplification. Effect lamps, VJ images and vintage accessories can be hired too.

Ask for the brochure and pricelist.
JukeBoxCharley@Gmail.com




4: JukeBox Charley

Vintage & Retro DJ 'Jukebox Charley' uses an original adapted Wurlitzer jukebox (from 1948!) as a very decorative Disc Jockey booth, including record player and amplification plus props.

He selects the vinyl from old fashioned record cases. All for your listening and dancing pleasure. Wearing vintage clothing, old movie studio light, authentic microphone, special light effects and sometimes special VJ imagery is the 'picture' complete! Turn-Key solution for instant atmosphere in any space!

ALSO SEE JukeBoxCharley.nl
Option: request records!

For more interactivity it is possible your guests choose a record out of antique recordboxes. The selection can be from the '20s untill the '80s. From 'In The Mood' by Glenn Miller to 'Jailhouse Rock' by Elvis Presley to 'Crazy Little Thing Called Love' by Queen. Think jukebox music like Soul, Rock & Roll, Beat, Disco and pop. From easy listening to fun or funky dance music ; Diana Ross & the Supremes, Jackson 5, Kool & the Gang, Charles Aznavour, The Four Seasons, Blondie, Beatles, Madonna etc. Many known (or lesser known) tunes on vinyl with great looking sleeves. The content of the request boxes can be filled according to your theme.

Ask for the possibilities.

ALSO SEE.... GreatGatsbyDJ.nl ................Disco-DJ.com................ DJ Elevator.nl
| | | |
| --- | --- | --- |
| Vintage wedding DJ Charley. | Great Gatsby DJ booth & sound at SS Rotterdam Cruise Ship | DJ Charley with Burlesque DJ booth and video. |
Dinner Show DJ (see also

DinnerShowDJ.nl

)

Playing vinyl on big DJ booth.

DJ Charley with his gramophone player.
"I am inspired by the coolest, swingiest, funkiest and most fun of
vintage and retro sounds: ... a fine blend of old, new and timeless party music."
- DJ Charley

Bookings or questions: mail JukeBoxCharley@Gmail.com
or call +31 (0)620750027

Quotes
"DJ Charley could read the audience very well. During dinner he played thematic music that uplifted the atmosphere but wasn't disturbing. Later more energy and music to dance to." (Dave - business event 1920-1940 mobster style)

"You really nailed it, both my parents and youngest of the group were into your retro tunes, the mix of old and new music seamlessly worked together and made the atmosphere great! I didn't expect so many people to dance. Your clothing and dj booth with antique gramophone player plus the veejay projections enhanced the whole visual aspect of the party, thanks!" (Laura - 40th birthday party)

"The DJ had a very positive influence at our product presentation. The show tunes and background music was exactly what we needed" (Arnout - product presentation)

"We enjoyed the easy listening during our dinner and also during the dance party! You hit the right note. We were looking for a vintage AND retro style DJ, and that was exactly what you delivered." (Emma & Bart - wedding party)

"Wow, it was such a great party last saturday! We could not thank you personally at the end of the night. So via mail we thank you for the great music! Our whole family danced so much and heard their favorite tunes!. We will talk about this for a long time to come."
(Charelle & Mathijs - wedding)

"It was a super fun night! Thanks for the music and decorations! Spot on!" - (Saskia, event Cinema Editors)

"Family and friends complimented us for the choice of DJ. They danced a lot and even cried during the slow last song. You have made the soundtrack of our life better, thanks Charley!" (Charlotte - wedding)


"DJ Charley brings like a time machine nostalgic atmospheres to the here and now!"
| | | | |
| --- | --- | --- | --- |
| A special concept: JukeBox Charley | Great Gatsby DJ at a indoor garden party | Go-Go girls, veejay images and Great Gatsby front | Gramophone DJ Charley |
DIV. OUTFITS;


DJ Charley


Als DJ Elevator


Retrolicious DJ duo


Disco DJ


Robin Boy Wonder

DJ Santa

Various options:

Great Gatsby DJ
- Vintage and Retro music for a Roaring '20 theme event feest with Great Gatsby booth. GreatGatsbyDJ.nl

Charley's Rhythm Revue
- EXTRA for hire: Burlesque dancers, singer, Show girls, GoGo girls, Candy girl, walkabout acts, 40's dance group etc.also see www.MadameRisquee.com

DJ Elevator
- Need 'uplifting background music'? DJelevator.nl
DJ Elevator in lift boy outfit plays records to elevate the mood.

Alter ego's / other outfits like Marquis DuCharles (classic (with a wink), world or novelty music) Robin the Boy Wonder (60's party etc.) Or DJ Santa!

Retrolicious DJ Duo
- This is a night to dress up for party time. The Retrolicious dj's are inspired by the coolest, swingiest, funkiest and most fun of vintage and retro sounds: ... a fine blend of old, new and timeless party (or lounge) music. SITE

Disco DJ
- Disco DJ Charley re-creates a real and fun 70s-80s Discotheque vibe with his records, special DJ booth, light effects and VJ material. . SITE


DJ Charley works for many event agencies, corporate events, theatres & clubs; Paradiso, Melkweg, Tuschinski, North Sea Jazz Club, Huis ter Duin, L'Europe, SS Rotterdam, Boekenbal, Epica Awards Berlin, Star Alliance, Holland Casino, science quiz, Van Gogh Museum, Museum Night, Burlesque events. Etcetera.
Bookings are welcome.

Bookings or questions: mail JukeBoxCharley@Gmail.com
or call +31 (0)6 20750027

EXTRAS:


Singer & dancers


Burlesque acts


Charleston dancers



Swing Trio



walk around act(s)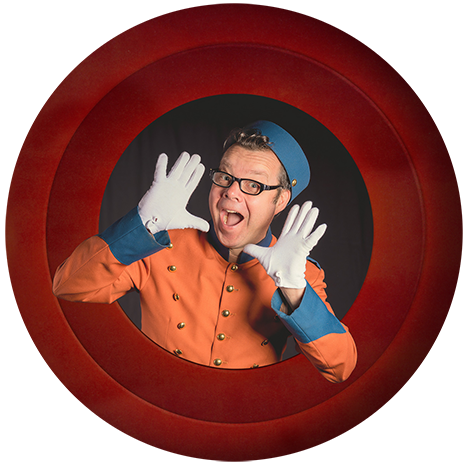 Other sites by DJ Charley
JukeboxCharley.nl - DinnershowDJ.nl - GreatGatsbyDJ.nl - Vintage-DJ.nl
Charley has a company called Madame Risquée. See here some projects:
MadameRisquee.com - MidniteBurlesque.com - WonderSalon.nl - GreatGatsby.club
www.Retrolicious.info - www.DiscoRisotto.com - AmsterdamBurlesque.com
BurlesqueWorkshop.com

ALSO SEE:





Underneath a YouTube Channel with Madame Risquée productions:
bookings or questions: mail JukeBoxCharley@Gmail.com